Many of us who run websites would like to be alerted the moment a visitor arrives on our pages, in real time. Real-time visitor alerts can allow us to understand at a granular level how visitors interact with our sites, which can be especially useful when testing new features or design changes. Real-time alerts are also an essential part of live chat software on your site.
There are a few different options on the market that can provide real-time visitor alerts. Here's a breakdown of how it works with the Formilla platform. For more information, and to get real-time visitor alerts set up on your site, visit Formilla.com.
Real-time Visitor Notifications
With real-time visitor alerts, you can get notified as soon as a visitor accesses your website by receiving sound alerts, desktop notifications right to your desktop web browser, and even push notifications to your iPhone, iPad, or Android smartphone or tablet.
You'll have instant insight into how visitors use your website with the real-time visitor monitoring dashboard as well.
You can track the total amount of visitors moving around on your site from webpage to webpage and monitor web traffic, including what country and region the visitor is located in using IP address geo-location, how long they have been on the website, if they're a new or returning visitor, whether they are using a mobile or laptop device, and much more.
Here is a snapshot view of the real-time visitor monitoring dashboard:
Use the power of live chat to request a chat with your web visitors as soon as they arrive to your website, or enable automatic popups with our Smart Messages feature to engage with them in just a few seconds.
You'll also receive chat alerts in addition to real-time visitor alerts as soon as a visitor responds!
Don't have a Formilla account? Sign up and try it out with our free 15-day trial to receive real-time visitor alerts today.
How to Enable Real-Time Sound Alerts on Desktops
All account sign-ups should be automatically enabled for real-time alerts when using the Formilla Live Chat dashboard with a desktop or laptop web browser.  Visitor alerts can be adjusted from the green 'Alerts' icon in the lower left corner of your Formilla dashboard as shown below.  Simply check or uncheck the 'Enable Alerts for New Visitors' box accordingly.
Once you have enabled alerts for new visitors, you'll hear a doorbell sound each time someone arrives to your website.  You can even open a new browser tab to your website to test the sound.
If you're using Google Chrome, Mozilla Firefox, or the Apple Safari browser, you can also be alerted with desktop notification popups through your browser right away if you're busy doing something in another browser tab. This way, you'll never miss a beat when you have a visitor on your website.
This is what a browser desktop notification popup looks like:
How to Enable Real-Time Visitor Alerts on Mobile 
Download Formilla Live Chat mobile apps for your iPhone, iPad, or Android smartphone or tablet to get started. By default, real-time visitor alerts are not enabled when you install the Formilla mobile app.
To enable alerts for new visitors, simply login to the mobile app using your Formilla Live Chat account credentials and touch the settings tab (4th one) within the app to enable the setting 'Alert on New Visitors' as shown below.
Note: you must have Push Notifications enabled for the Formilla Live Chat app to receive alerts as they will only arrive when the app is in the background or your phone is on the lock screen (in standby).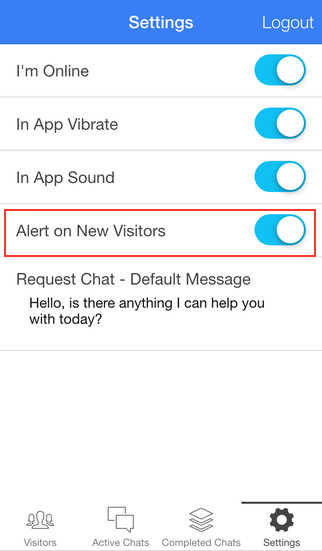 Once you have alerts properly enabled for new visitors, go ahead and put your phone on standby and access your own website just as a visitor would.
You should receive a push notification including the page URL the visitor is currently on as shown below (iPhone smartphone example):
Having any trouble?  Please Contact us if you have any questions as we're always willing to help!